---

ATLAS Level 1 Calorimeter Trigger
(KIP, University of Heidelberg)
FEMB-D-40-x-5.0-...

---
DESCRIPTION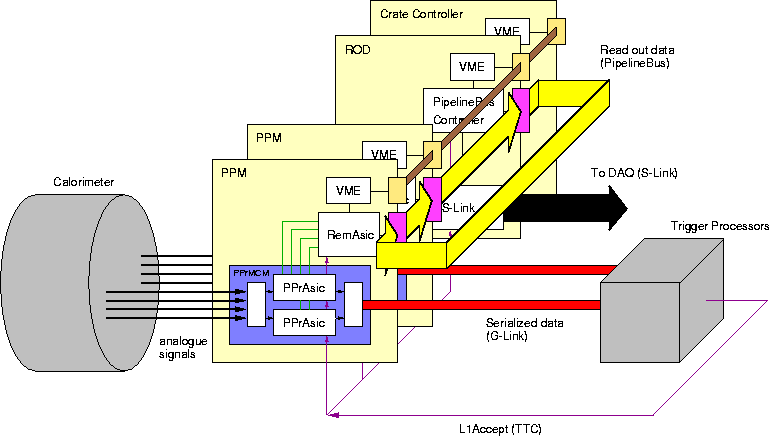 Note: the G-LINK will be replaced by LVDS links
The Read Out Driver Module of the Level 1 Calorimeter Trigger is the interface between the front-end system and the level-2 buffers (ROB). It collects data from level-1 accepted events over a pipeline bus and sends them via an S-LINK interface to a Read Out Buffer.
The pipeline bus was designed to match all important aspects of the S-LINK hardware. Both interfaces employ a FIFO concept with a 32-bit bus. They are clocked with the same clock frequency of 33 MHz or 66 MHz.
The data is already received on the ROD in a sequential order. The ROD adds an event header and trailer to the data set and stores it in a FIFO memory until it can be transmitted with the S-LINK to the level-2 buffer.
In total eight to sixteen S-LINKs will be needed.
---
STATUS
| | |
| --- | --- |
| 14 March 1998 | Schematics of the Trigger ROD module will be ready by April and will be sent to CERN for a mini design review |
| 13 August 1998 | Master node module PCB being designed. S-LINK adapter board will be designed later |
| 30 November 1998 | Erik van der Bij reviewed PCB layout and schematics of the Master node module |
| November 1999 | Master node module working and presented at LEB99 |
| 17 March 2000 | Ordered one parallel electrical link |
| 31 May 2000 | On 14 June a design review will be held of the PPrASIC |
---
DOCUMENTATION

C. Hübner, A. Mass in: Second Workshop on Electronics for LHC Experiments, 23-27 Sept. 1996, Balatonfüred (Hungary) (published as CERN/LHCC/96-39)
---
CONTACTS
---
CERN - High Speed Interconnect - S-LINK
Erik van der Bij - 7 August 2001