---


MFCC-ODIN
Optical G-LINK interface for MFCC
LDC-D-40-B-3.3-128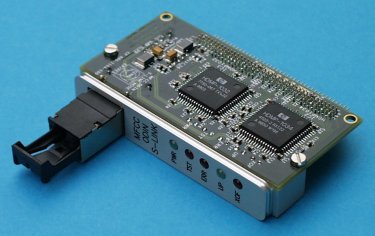 Top view
Bottom - top direct - bottom direct - mock-up
(Circuit number 680-1169-100)

---
DESCRIPTION
MFCC. The nose plugs into
the connector on the left
The ODIN 'nose' is a plug-in card for the CESMFCC (Multifunctional Computing Core), a full functional processor board in a PMC form-factor. The nose gives the MFCC a 128 MB/s input to ODIN S-LINK Source Cards.

The nose contains the same hardware (HDMP-1032/1034 G-LINK chips and optical transceiver) as a single channel ODIN, but with the Altera removed. The S-LINK protocol is implemented as a core in the "front-end FPGA" that is on the MFCC.

Only the S-LINK receiver logic will be implemented, but in fact with the right software implemented in the "front-end FPGA", the hardware can also be used to implement transmitter logic.
General features
Fits CES MFCC 8441E/F
Duplex S-LINK
32-bit data width
Block basis error reporting on data words
Word-by-word error reporting on control words
Autonomous link synchronization and maintenance of physical link
Improved S-LINK Reset protocol
Flow control is provided both in data mode and self test modes
Optical output, max. cable length with 50µm multimode cables: 550m
128 MBytes/s maximum data transfer rate
64 MBytes/s transmission rate for control information (UCTRL# low)
8 MHz sampling rate for the return lines
Uses only 3V3 power supply
---
STATUS
Hardware
| | |
| --- | --- |
| 28 March 2000 | After succesfull tests of the S2P2 with MFCC, first discussions were held about building a nose for the MFCC. |
| 10 July 2000 | Schematics ready. PCB design will start 14 August |
| 17 August 2000 | PCB design will start 18 August |
| 31 August 2000 | PCB and front-panel design ready. 10 PCBs ordered, 5 front-panels, components for 3. PCB manufacuring ready by the beginning of October. |
| 4 October 2000 | 10 PCBs received. Project presented at ATLAS ROD Workshop |
| 23 October 2000 | Three cards mounted |
Firmware
| | |
| --- | --- |
| 28 March 2000 | Stefano Veneziano will implement ODIN firmware in MFCC front-end FPGA. Erik van der Bij will provide the ODIN core for this. |
---
DOCUMENTATION
CERN Engineering Data Management System (EDMS)
---
CONTACTS
---
CERN - High Speed Interconnect - S-LINK
Erik van der Bij - 23 October 2000