---


Optical Dual G-LINK (ODIN) S-LINK Interface
LSC/LDC-D-40-B-5.0/3.3-160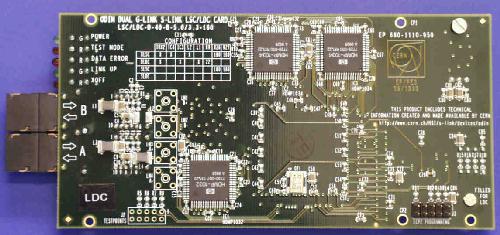 Link Destination Card in double G-LINK configuration (other side, large)
(Circuit number 680-1110-950)

---
DESCRIPTION
The ODIN S-LINK interface is a standard S-LINK implementation, which uses in the full configuration two 3.3 V Hewlett Packard G-LINKs (HDMP-1032/1034) as a physical layer for the forward channel. The same chip is used for the return channel. For the optical transmission small form-factor (SFF) optical transceivers with duplex LC connectors are used.

The design is not intented to be used in an environment with radiation. ODIN cards are commercially available from the company CERNTECH and are also available from the CERN stores.

ODIN cards are available in a full-speed version using two duplex LC cables and a cheaper, lower-speed version that uses a single duplex LC cable. All types are available in 5 Volt and 3.3 Volt versions.

ODIN link types
---
General features
Duplex S-LINK
32 bit data width
UCLK up to 40 MHz
Block basis error reporting on data words
Word-by-word error reporting on control words
5V tolerant input signal levels
Option of 3.3V or 5.0V power supply (factory option)
Power consumption 5.5W typical, 7W max. at 5.0V; 3.6W typical, 4.5W max. at 3.3V
Autonomous link synchronization and maintenance of physical link
Improved S-LINK Reset protocol
Flow control is provided both in data mode and self test modes
Optical output, max. cable length with 50µm multimode cables: 550m
Double channel version
40 MHz LCLK
160 MByte/s maximum data transfer rate
80 MByte/s transmission rate for control information (UCTRL# low)
5 MHz sampling rate for the return lines
Maximum 1m fiber length difference
Single channel version
32 MHz LCLK
128 MByte/s maximum data transfer rate
64 MByte/s transmission rate for control information (UCTRL# low)
8 MHz sampling rate for the return lines
---
STATUS
| | |
| --- | --- |
| 22 June 1999 | Hardware specification ready |
| 3 August 1999 | Schematics ready |
| 27 September 1999 | PCB design ready |
| 8 November 1999 | Boards mounted and ready for testing |
| 9 December 1999 | Boards debugged and ready for use in test beams |
| 27 January 2000 | CERNTECH will start ordering components for production of ODIN. First production expected to be ready by June 2000 |
| 13 June 2000 | First production expected by end July 2000 |
| 3 October 2000 | IP Core design for single LDC ready |
| 28 February 2001 | ODIN cards available from CERN stores |
---
DOCUMENTATION
CERN Engineering Data Management System (EDMS)
S-LINK data sheet

Master Thesis by Erik Brandin, KTH, Stockholm, June 2000 (2.4MB pdf)
---
CONTACTS
---
CERN - High Speed Interconnect - S-LINK
Erik Brandin & Erik van der Bij - 26 March 2002