DT2SL Interface

---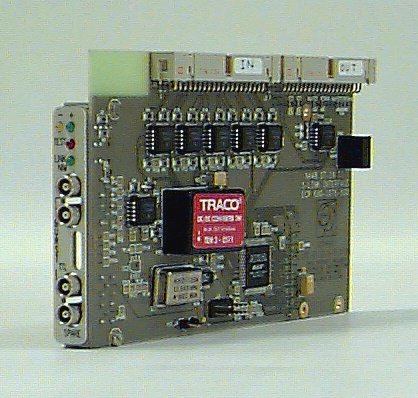 more photos available
Overview
Data coming from the subdetectors are delivered to the PC over a DT16 Link. In order to get into the SDPC memory, we must convert to PCI. This is done in two stages as shown below: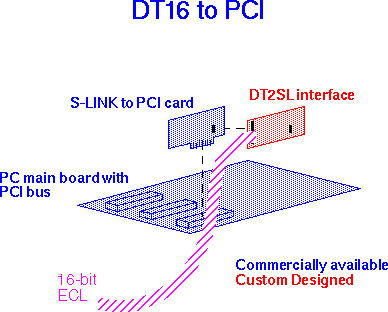 The DT2SL interface converts the DT16 into an S-LINK compliant LDC. We then use an existing S-LINK to PCI card to interface to the PCI bus on the SDPC. The advantage of this approach is that the DT16 to S-LINK conversion is relatively simple - much simpler than building an interface from DT16 to PCI directly. We can then take advantage of the commercially available S-LINK to PCI card and of the considerable amount of S-LINK experience and test hardware which is available.
The Status of the Project
15 DT2SL cards have been manufactured (Feb 1998).
15 S-LINK to PCI cards have been delivered from Incaa Computers (Feb 1998).
Two drivers have been developed and tested using a SLIDAS test card as well as the DT2SL interface.

The first was based on a Linux device driver which came from a library generated by Andrea Cisternino. After disabling of user-space copy this driver achieved a data rate of 97 MByte/s into the PC memory.
The production driver was written from scratch. It is a user-space zero-copy driver which simply maps the S-LINK to PCI card into memory and then sets up the DMA transfers from the card into the PC memory. This requires no interrupts and a data rate of 117 MByte/s has been achieved with an infinite packet size, i.e. the S-LINK card was sending a test pattern of data continuously with no gaps for protocol.
---
Steffen Luitz 23 July 1998