---


Simplex G-LINK S-LINK LDC
LDC-S-40-B/W-5.0-80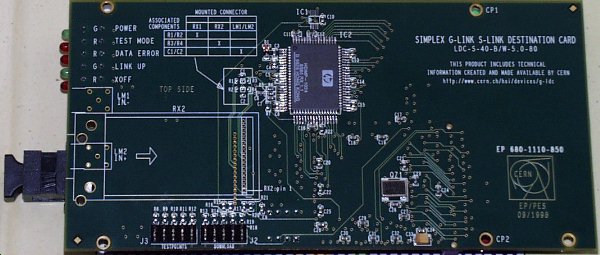 (Circuit no. 680-1110-850A)
Top side view of the PCB. The G-LINK chip is visible
The S-LINK connector and an Altera are mounted at other side of the card.
The Finisar receiver or LEMO connectors may be mounted on the either side.

---
DESCRIPTION
The Simplex G-LINK Link Destination Card (G-LDC) is an S-LINK compliant LDC. It is based on the Hewlett Packard 5 Volt G-LINK receiver HDMP-1024. The G-LDC can work in conjunction with transmitter boards that use the corresponding transmitter HDMP-1022 or other chips that follow the G-LINK protocol.

The optical input uses a Finisar FRM-8510 850 nm receiver module while a seperate A/D converter measures the optical power level of the light received. For laboratory tests, also LEMO connectors may be mounted to access directly the G-LINK serial inputs. The Finisar module or LEMO connectors may be mounted on either side of the card.

This card is designed for the PLD irradiation test project and the "G-LINK fanclub". The card is not commercially available.
Main features
---
STATUS
Hardware
| | |
| --- | --- |
| 17 September 1998 | PCB design finished, 5 boards will be produced and expected to be ready by mid October |
| 19 October 1998 | 5 boards received |
| 11 December 1998 | 3 boards mounted. Found PCB production problem which makes that holes for LEDs, transceiver and EPROM to Gnd and 3V3 planes are not connected. Will try to patch. PCB design for Link Source Card almost finished |
| 18 December 1998 | Both electrical and optical versions working with patched Gnd and 3V3 planes. Tested with Japanese G-LINK LSC and HP Logic State Analyser. Five corrected PCBs will be produced |
| February 1999 | Corrected PCB works perfect |
| July 1999 | Ordered five extra PCBs |
| 6 March 2000 | Eight boards mounted, but not yet tested |
| 10 April 2000 | All boards tested. One LSC and LDC set sent to Gustavo Cancelo for the testing of Peter Denes' chip. |
Software
17 September 1998
Design of Altera will start by the beginning of October
19 October 1998
Specification written. Altera design started by Zoltan Meggyesi
18 December 1998
Altera software working. Can select 20-bit mode and synchronisation mode with jumpers
3 May 1999
Altera versions:
v1.2 send all words, incl with errors.
31/3/99: check data against known patterns. Check enabled with jumper
30 June 1999
Altera version which measures amount of light received. Work starting to make a real simplex S-LINK
23 July 1999
S-LINK LDC tested
---
DOCUMENTATION
---
CONTACTS
---
CERN - High Speed Interconnect - S-LINK
Erik van der Bij - 22 December 2000